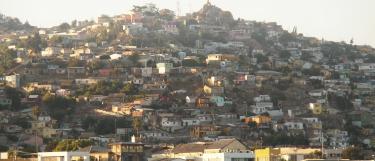 Desde 2016, el Ciclo de Governance Lecture del Heidelberg Center para América Latina invita a renombrados científicos a Santiago de Chile para que presenten el estado actual de sus investigaciones sobre la desafiante coordinación de los diferentes actores y recursos de la sociedad para lograr objetivos consensuados. 
El ciclo de conferencias está dirigido a profesionales e investigadores académicos en el campo de la gobernanza, y a los académicos y estudiantes del programa de maestría "Governance of Risk and Resources", que se ofrece en asociación entre la Universidad de Heidelberg, la Universidad Católica de Chile y la Universidad de Chile. El ciclo de conferencias tiene como objetivo la transferencia de conocimientos aplicados y teóricos.
En la gobernanza, las partes interesadas jurídicamente independientes están vinculadas entre sí de forma interdependiente a través de problemas de acción colectiva. Los problemas se refieren, por ejemplo, a la gestión adecuada de los riesgos naturales y sociales o al uso sostenible de los recursos para el desarrollo social. Los procesos de gobernanza son organizados por las propias partes interesadas para encontrar soluciones aceptadas conjuntamente a los problemas. Tienen lugar en espacios de interacción institucional y físicamente organizados en los que la comunicación y el intercambio de conocimientos desempeñan un papel central: Por un lado, el conocimiento es un elemento del proceso de gobernanza y un requisito previo para el éxito de la resolución de problemas. Por otro lado, el conocimiento es también el resultado del proceso de aprendizaje de la gobernanza.
Lista de invitados anteriores en la serie de Governance Lectures:
2022- Dr. Jeffer Chaparro Mendivelso, El territorio como dispositivo de aprendizaje: la gobernanza y las experiencias educativas no escolarizadas.
2021 - Marco Pütz, Stress in the city: How urban areas van adapt to climate change and why this is not always easy
2020 - Susan Cutter, University of South Carolina, USA: The Politicization of Emergency Management
2019 - Robert Panitz, Heidelberg University, Germany: Networks, Technology and Governance
2019 - Octavio Rojas, Universidad de Concepción, Chile: Lessons from river flooding on the coast of central Chile: an integrated vision from land-use planning in the face of a changing future
2018 - Adré Torre, National Institute for Agronomic Research, France: Territorial Governance, Metropolization and Peri-Urban Conflicts
2018 - Johannes Glückler, Heidelberg University, Germany: Legitimate Governance in Lateral Networks
2018 - Michael Scott, Flinders University Adelaide, Australia: Spatialised Techniques of Neutralisation: Land Use Governance and Coastal Risks
2017 - Michael Handke, Heidelberg University, Germany: Governance of Forest Fire Risk in Chile. The value of geographical knowledge in risk assessment
2017 - Franzisco Giraldo Lopez, Universidad Externado de Colombia, Colombia: Emerald mining in Colombia. Governing regional anarchy?
2017 - Jessica Budds, University of East Anglia, UK: Restructuring and Rescaling Water Governance in Mining Contexts
2016 - Astrid Ulloa, Universidad Nacional de Colombia, Colombia: Indigenous Peoples and Relations with Non-humans: Governance vs. Environmental Governability
2016 - Juan José Sanz Donaire, Universidad Complutense de Madrid, Spain: Climate Change as a Political and Media Concept
2016 - Roger Hayter, Simon Fraser University, Canada: Forest Conflict, Remapping, Institutional Innovation, and Stakeholder Governance: Reflections from British Columbia's Great Bear Rainforest