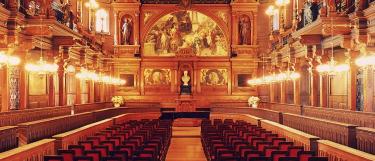 The Heidelberg Center Latin America hosts the Master of Laws in International Law (LL.M.), offered by the law faculties of Heidelberg University and the University of Chile, with the support of the Max Planck Institute for Comparative Public Law and International Law and the Institute of International Studies of the University of Chile.
The Heidelberg Center organizes and hosts academic events on current topics of International Law with researchers and professionals from all over the world.

The DAAD, German Academic Exchange Service main function is to promote cooperation between German and international universities and research centers in different fields of study, teaching, research and outreach. Each year, the DAAD awards grants for transnational training programs (Translationale Bildung, TNB), through which the winning institutions (German universities) receive funds exclusively for scholarships for foreign students of academic excellence. Since 2008, our Master's program has received these funds. With the help of a bi-national commission with authorities from both universities, institutions involved and the DAAD law assistant, a selection of students who will be recipients of these scholarships for the corresponding year is made. The scholarship includes the payment of a percentage of the annual tuition fee, an amount for living expenses and a travel scholarship to Germany which includes a fixed co-payment for the airfare for the academic period in Heidelberg.
More information please contact:
Academic Coordinator of LL.M Program
Dr. Andrea Lucas Garín
andrealucas@heidelbergcenter.cl
Assistant Coordinator
María Gabriela de Abreu
mg.deabreu@heidelbergcenter.cl