Medical Informatics
Master in Medical Informatics (MIM)
The main objectives of Medical Informatics are to improve individual health, healthcare information systems, public health, and clinical and biomedical research by providing an effective and efficient management of information and knowledge.
Within this context, the Master in Medical Informatics (MIM) aims at training engineers and medical professionals in the following areas: representation, development and use of capture systems, analysis and access to patient health information, as well as secondary purposes.
The objective of this program is to train graduates in the use of cutting-edge technologies that allow them to develop and apply tools related to health knowledge management in an interdisciplinary and international environment.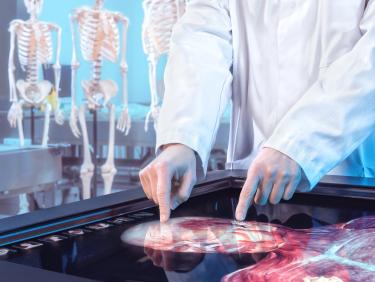 STRUCTURE AND ORGANIZATION
The Master in Medical Informatics of the Faculty of Medicine of the University of Chile in cooperation with the University of Heidelberg has a duration of two years (four semesters).
The program is organized by the Faculty of Medicine in collaboration with professors from the Faculty of Physical and Mathematical Sciences of the University of Chile and the University of Heidelberg. The collaboration with the University of Heidelberg is articulated through the Heidelberg Center for Latin America, Center of Excellence in Research and Teaching.
The established credit system (ECTS) allows for the international recognition of the credit points acquired in the courses and of the academic degrees obtained. Courses are taught in Spanish or English. The collaboration agreement between the University of Chile and Heidelberg University brings together Chilean and German professors with vast experience in research, teaching and practice in medical informatics. Thus, MIM students receive a theoretical and practical training of excellence and markedly international that favors their incorporation into professional teams anywhere in the world.
The degree obtained is "Magíster en Informática Médica", equivalent to "Master of Science", recognized both in Chile and Germany.
The Master's program in Medical Informatics is open for applications every two years since 2014. The first semester courses start in April. It is aimed at a broad spectrum of experts: professionals in medicine, engineering, computer science, biomedical engineering, mathematics and statistics, physics, nursing, medical technology, as well as professionals with a bachelor's degree in other related areas.
Information and application
Information Office
Escuela de Posgrado, Facultad de Medicina, Universidad de Chile
Magíster en Informática Médica
Heidelberg Center para América Latina
info@hcla.uni-heidelberg.de
Information on scholarships
M.Sc. Diego Rivera
Heidelberg Center para América Latina
Las Hortensias 2340, Providencia
Tel.: +56 2 2234 3466
info@hcla.uni-heidelberg.de
Applications
Erika Acuña
Secretaria Docente
Facultad de Medicina, Universidad de Chile
Programas de Grados Académicos, Escuela de Postgrado
Av. Independencia 1027 – Santiago
Tel.-Fax +56 2 2978 68 20
magister@med.uchile.cl
More information on the Masters program at the University of Chile