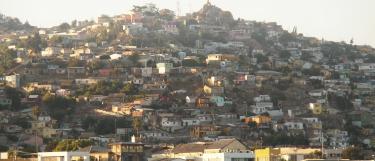 Seit 2016 lädt die Governance Lecture Series am Heidelberg Center Lateinamerika renommierte Wissenschaftlerinnen und Wissenschaftler nach Santiago de Chile ein, um den aktuellen Stand ihrer Forschung zur herausfordernden Koordination verschiedener gesellschaftlicher Akteure und Ressourcen zur Erreichung konsensualer Ziele vorzustellen.
Die Vortragsreihe richtet sich an Fachleute und Wissenschaftler aus dem Bereich Governance sowie an die Akademiker und Studierenden des Masterstudiengangs Governance of Risk and Resources, der in Kooperation zwischen der Universität Heidelberg, der pontificia universidad Católica de Chile und der Universidad de Chile angeboten wird. Ziel der Vorlesungsreihe ist die Vermittlung von angewandtem und theoretischem Wissen.
Bei der Governance sind rechtlich selbständige Akteure durch Probleme des kollektiven Handelns miteinander verbunden. Die Probleme beziehen sich zum Beispiel auf den angemessenen Umgang mit natürlichen und sozialen Risiken oder die nachhaltige Nutzung von Ressourcen für die gesellschaftliche Entwicklung. Governance-Prozesse werden von den Akteuren selbst organisiert, um gemeinsam akzeptierte Lösungen für die Probleme zu finden. Sie finden in institutionell und physisch organisierten Interaktionsräumen statt, in denen Kommunikation und Wissensaustausch eine zentrale Rolle spielen: Wissen ist einerseits ein Teil des Governance-Prozesses und eine Voraussetzung für erfolgreiche Problemlösungen. Andererseits ist Wissen aber auch das Ergebnis des Lernprozesses der Governance.
Liste der bisherigen Vortragenden der Governance Lectures:
2021 - Marco Pütz, Stress in the city: How urban areas van adapt to climate change and why this is not always easy
2020 - Susan Cutter, University of South Carolina, USA: The Politicization of Emergency Management
2019 - Robert Panitz, Heidelberg University, Germany: Networks, Technology and Governance
2019 - Octavio Rojas, Universidad de Concepción, Chile: Lessons from river flooding on the coast of central Chile: an integrated vision from land-use planning in the face of a changing future
2018 - Adré Torre, National Institute for Agronomic Research, France: Territorial Governance, Metropolization and Peri-Urban Conflicts
2018 - Johannes Glückler, Heidelberg University, Germany: Legitimate Governance in Lateral Networks
2018 - Michael Scott, Flinders University Adelaide, Australia: Spatialised Techniques of Neutralisation: Land Use Governance and Coastal Risks
2017 - Michael Handke, Heidelberg University, Germany: Governance of Forest Fire Risk in Chile. The value of geographical knowledge in risk assessment
2017 - Franzisco Giraldo Lopez, Universidad Externado de Colombia, Colombia: Emerald mining in Colombia. Governing regional anarchy?
2017 - Jessica Budds, University of East Anglia, UK: Restructuring and Rescaling Water Governance in Mining Contexts
2016 - Astrid Ulloa, Universidad Nacional de Colombia, Colombia: Indigenous Peoples and Relations with Non-humans: Governance vs. Environmental Governability
2016 - Juan José Sanz Donaire, Universidad Complutense de Madrid, Spain: Climate Change as a Political and Media Concept
2016 - Roger Hayter, Simon Fraser University, Canada: Forest Conflict, Remapping, Institutional Innovation, and Stakeholder Governance: Reflections from British Columbia's Great Bear Rainforest
Zum Vollbildmodus wechseln

Zum Vollbildmodus wechseln

Zum Vollbildmodus wechseln

Zum Vollbildmodus wechseln

Zum Vollbildmodus wechseln