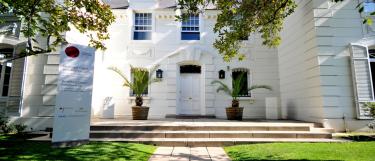 The Heidelberg Center Latin America - HCLA, Center of Excellence in Research and Teaching, is Heidelberg University's offshore campus in and for Latin America.
The HCLA was founded as the first and only postgraduate center of a German university in Latin America and was officially inaugurated in Santiago de Chile on April 9, 2002. Since 2009, after winning a prestigious academic quality competition organized by the German Academic Exchange Service (DAAD) and funded by the German Foreign Office, the HCLA became one of the five Centers of Excellence in Research and Teaching that Germany has worldwide.
The Center is at the service of academic-scientific dialogue. Its main objective is to promote, organize and coordinate master's, doctoral and diploma programs, which are offered in partnership with prestigious Latin American universities. The Heidelberg Center also organizes and holds specialization seminars, symposia and summer and winter schools in different disciplines and on the most current topics. These academic meetings promote the exchange of teaching and research results between Heidelberg and the countries of the region.
The HCLA's scope of action is strongly oriented towards strategic and priority fields and topics in the Latin American teaching and research space and with strong potential for linkage with the environment. Thus, areas as different as Astronomy, International Law, Geosciences, Medical Physics, Medical Informatics or Psychotherapy are addressed.
Through the structural collaboration with the Heidelberg Center for Ibero-American Studies (HCIAS), the HCLA promotes collaborative research, teaching and transfer with universities and research centers of reference at the intersection between the Humanities, Social Sciences and Behavioral Sciences around the macro-theme "Spaces and Dynamics". A primary objective is to promote the careers of excellent early career researchers through training and exchange, and the creation of sustainable international networks.
The Heidelberg Center's offer is rounded off by German language courses and by cultural activities such as readings, concerts and lectures. As a platform in the region, the HCLA also supports the internationalization initiatives of other institutions and universities in Baden-Württemberg. It is located in an old villa at the street Las Hortensias #2340, in the beautiful and central district of Providencia. The building was renovated and decorated to create a functional and pleasant environment. Students have at their disposal well-equipped classrooms, a work room with a small library, a cafeteria and a garden area.